Arakelots Monastery
Arakelots monastery is located in the Tavush region of Armenia, on a wooded mountainside - on the Bank of the Kirants river. This is one of the most interesting monasteries in Armenia, which, unfortunately, has come down to us in a dilapidated state.
Arakelots monastery complex was rebuilt from an older one in the XIII century and consists of two churches, a narthex, a bell tower, residential and outbuildings and is surrounded by a high and powerful wall with towers.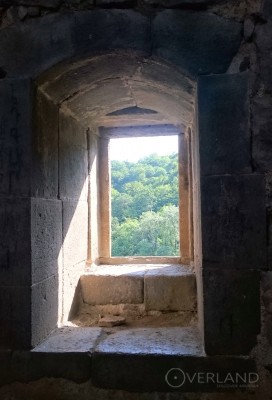 The main Church stands on the North-West side. It is a domed hall with a rectangular plan. Built of yellow-blue stone. It has a single entrance on the East side, which opens into the narthex. Inside the Church are preserved some of the frescoes. At the southern wall of the Church stands the khachkar Surb Karapet.
The narthex of the main Church is one of the remarkable buildings of the monastery. This narthex is unique for medieval architecture due to its vaulted cover with a smoke hole.
The bell tower is built in the South-Western corner of the narthex.
The second Church is located on the South side of the main entrance. It is a single-nave vaulted hall with an entrance on the South side.
On the South side of the complex is a spacious hall, three walls of which are shared with the wall-fence of the monastery.
Around the Arakelots monastery, on the two banks of the Kirants river, there are ruins of the ancient village of Arakelots-the sranots bridge, the caravanserai, the baths, churches, and other buildings.